The 25th Sino-Pack Packaging Expo
Mar 10 2018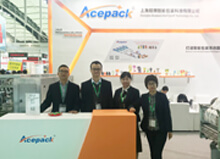 From March 10th to 12th, 2018, Shanghai Acepack Intelligent Packaging Technology Co., Ltd. attended 25th Sino-pack in Guangzhou. In the exhibition, Acepack not only showed the professional knowledge of the products and market as the leaders of the packaging machinery industry, but also carefully listened to the customer's needs, and tried to create a perfect and reliable and customized packaging solution for the customers. The high quality products and excellent service have made Acepack consolidate the existing cooperative relationship at the exhibition, and have unearthed a large number of potential customers and laid a good foundation for the wider market.

It is the consistent pursuit of Acepack to understand the needs of customers and display the advanced packaging machinery to the world by this exhibition. The fully automatic horizontal duplex doypack packaging machine (DS-280DSZ), the fully automatic horizontal form fill seal packaging machine (DS-140S) and the fully automatic horizontal pre-made pouch packaging machine (SG-280Z) have been prepared for the exhibition.

With wisdom and dream, stand in the forefront of the industry. While Shanghai Acepack shows itself, it also does not forget to learn advanced technology and design ideas from abroad, and strive to bring better products to customers. Aggressive and innovative, go beyond the pursuit and go forward. Shanghai Acepack will make bricks and mortar for the development of packaging machinery industry.