Horizontal S Series Standard Pouch Packing Machine
Nov 19 2020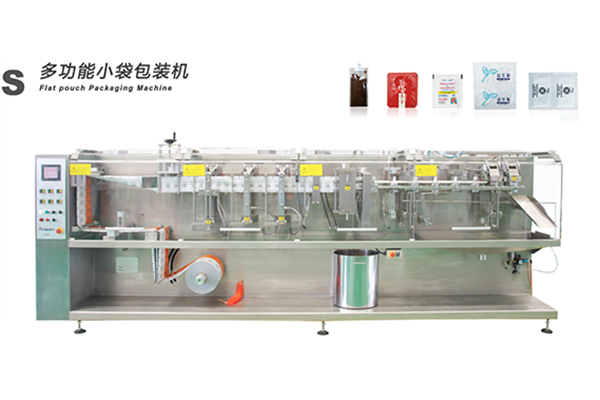 Basic Introduction:
S series is designed for standard flat pouch and small doypack, it can realize three-side seal, four-side seal and twin-link pouch function. It can also realize special functions on flat pouch as per customer choice, like; zipper, hanging hole, spout and pouch with special shape. It also has big size pouch series as well as duplex output series, which can meet packing requirement of big volume and high speed.

Series Variation:
Inside the S series main machine there are also different series divided upon the requirement of various kinds of pouch size and formation. Such as;

Simplex series: S-110, S-110T
S-130, S-130B
S-180, S-180T, S-180Z, S-180C
Duplex series: S-180D, S-180DC
S-240D, S-240DZ, S-240DC, S-240T, S-360D
Big Size series:S-240, S-240Z

(Z=ziplock pouch, T=twin-link pouch, C=spouted pouch, B=special shape pouch)



Packing style and parameters:
S series standard pouch machine generally works with flat pouch, the pouch sizes this machine can handle range from 50mm x 50mm(width x length) to 240mm x 310mm(width x length). One can also add some special features with flat pouch, such as, zipper, spout, hanging hole etc. These all special cases comes under certain series of main S series machines. If we talk about a full process of standard flat pouch packing line, we can divide this full process into 3 different parts. First one is Main machine which need to choose according to the pouch size and pouch functions (ziplock/spouted/duplex/simplex etc.). Second part is filling parts, which will be equipped with main machine according to the nature of the products that one like to fill inside pouch. Like, powder products, liquid products, granule type products, solid products etc. The third part is feeding equipment which connect to the filling parts to send the material from actual storage. There are also different kinds of feeding equipment which need to match according to the nature of the products.
The S series standard pouch machines are equipped with best electrical and pneumatic components, such as; Mitsubishi Japan PLC, Mitsubishi Japan Touch Screen, Mitsubishi Japan Inverter, Panasonic Japan Servo Motor, Autonics Korea Photocell, ABB Switzerland Main Motor, SMC Japan pneumatic parts. But however, these components can be customerised as per demand.
S series standard machine maximum packing volume can reach 1000ml with a highest speed of 40-60 pouch per minute.
Special feature:
With S series standard machine one can realize the twin-link pouch packing requirement, which means two pouch attached together, these two bag size also can be set as per demand. If someone wants to fill different material inside these two pouch, it's also possible.